By Donna Spangler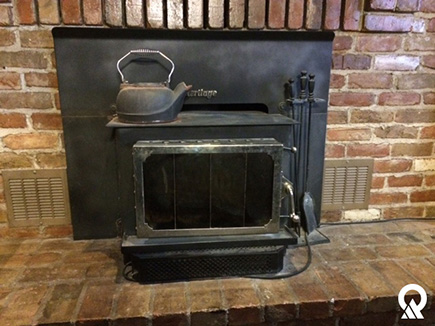 I'll admit there was a time when I enjoyed curling up on my comfy couch with a crackling blaze burning in our wood-burning stove. That was 10 years ago, when my husband and I bought a historic house that featured a family room with a wood-burning stove. We enjoyed the evenings we spent around the fire because it gave us the same comforting feel as a cabin in the woods.
Now, as Communications Director for the Utah Department of Environmental Quality, I talk with people every day about the ways burning wood contributes to poor air quality. I caution the public to avoid burning on voluntary action days when the air quality is deteriorating and remind them that burning is prohibited on mandatory action days when the air is unhealthy.
I confess, back in those earlier days it didn't seem shameful to light a fire.The direct effects, at least in my case, seemed to be an occasional smoke-filled room from pesky backdrafts. It was all part of the charm of living in Ogden's historic district.
Then I found out that my wood-burning fire is actually harmful to my health—and the health of others, including my family and neighbors. I now know that tiny particles of soot that come from burning wood are small enough to enter my lungs. I can't see them, but they can make it harder to breathe, and in extreme cases they can even cause a heart attack or stroke.
Bryce Bird, director of the Division of Air Quality (DAQ), explained to me that when you light a fire, you expose the people inside your house and the children playing outside in your neighborhood to the harmful pollution that comes from wood smoke.
We began to wonder if we should replace the old dinosaur burner with an EPA-certified stove. Would that solve the problem?
Not really, air quality experts tell me. While it's true that EPA-certified wood stoves, when operated according to manufacturer specifications, may produce less particulate air pollution than uncertified ones, they still produce particulate pollution in amounts of magnitude greater than natural gas fireplaces. In addition, EPA-certified stoves still emit volatile organic compounds (VOCs) and nitrogen oxides (NOx), the reactive gases responsible for 70 percent of the particulate pollution during inversions.
Governor Herbert
has asked the Air Quality Board to consider a seasonal ban on wood burning in urban areas during our winter inversion season from November to March. This proposal is open for public comment this month, and DAQ is holding public hearings in the seven counties that would be impacted by the ban, And yes, this seasonal ban would affect the use of my wood stove in Ogden.
Our old wood stove? It lived a good life, but all things come to an end. We now use a gas fireplace to provide ambiance for our home. Do I miss the crackling fire? Sure. But my health and that of my neighbors and family are more important in the bigger scheme of things.Times have changed. We live in a world where people are packed together tighter than ever before, and the simple reality is that our actions, even those that seem minor, do affect those around us.
RIP, old stove.
Want to learn more about the impacts of wood-burning? Visit our Wood Burn Program web pages or EPA's Burn Wise site. We welcome public comments on the seasonal wood burn ban proposal and encourage you to attend one of the public hearings held in the affected counties. You can provide your written comments via email comments to Mark Berger or send your comments by standard mail to: Public Comment Division of Air Quality, P.O. Box 144820, Salt Lake City, Utah, 84114-4820. Your thoughts on this issue matter to us. I'd also love to hear what you think.
I am the Communications Director for DEQ and write a monthly blog post. You can read my previous blog posts here at deq.utah.gov.
Save