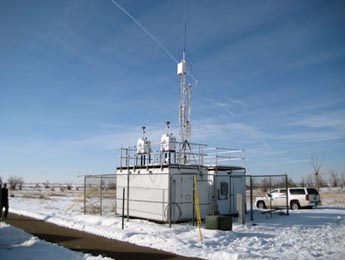 Air monitoring delivers critical information to the public and scientists about ozone levels in the Uinta Basin. Monitoring data in the Basin:
Helps residents protect their health during high ozone periods.
Aids scientists in their efforts to understand the causes and sources of ozone pollution.
Provides regulatory data for the determination of attainment/nonattainment status.
Assists in the development of emission reduction strategies.
Tracks the effectiveness of those strategies.
Real-time Ozone Conditions
The Division of Air Quality (DAQ) Web page displays current conditions for Uintah and Duchesne counties using real-time data from air monitors in the Basin operated by DAQ. The Division offers a free smartphone app called UtahAir that provides the same real-time information for Android and iOs devices. In addition, DAQ issues health advisories when forecasted values are expected to be over the standard. The Ute Tribe operates air monitors in the Basin in Indian Country.
Residents can use these tools to check the hourly ozone levels and take appropriate precautions to reduce their exposure and emissions during high ozone periods. Ozone trends data and a three-day forecast are also available to help the public and industry plan their activities to reduce emissions when ozone levels are high.
Since ozone exposure can impact the health of Basin residents, Tri-County Health is collaborating with DAQ to help residents manage their health when air quality is poor by providing links from their Website to DAQ's air quality information.
Monitor Sites
In 2006, DAQ started monitoring air quality in Vernal, focusing primarily on fine particulates, nitrogen oxides, and summer ozone. This early monitoring didn't show elevated winter ozone levels. In the spring of 2009, EPA established monitors in Ouray and Redwash, oil and gas production areas in Indian Country. In sharp contrast to the low ozone values found during the winter of 2006-2007, monitors began recording elevated ozone levels during the winter of 2009-10. Since then, studies have recorded ozone values that are well above the 8-hour standard during inversion periods.
DAQ, EPA, the Ute Tribe, the Bureau of Land Management (BLM), and the National Park Service (NPS) maintain permanent monitors in the Basin (2 MB). DAQ operates monitors in Roosevelt and Vernal. The Ute Tribe operates monitors in Indian Country in Myton, Ouray, Redwash, and Whiterocks. The NPS has stations in Dinosaur National Park and Rangely, just across the border into Colorado. The Fruitland station, operated by the BLM, is on the rim of the Basin and out of the inversion most of the time, making it a good contrast to the stations at the lower elevations.
The Horse Pool monitor site, centrally located between gas and oil production areas, is semi-permanent and has been used as the main National Oceanic and Atmospheric Administration (NOAA) research site during its winter intensive studies. During wintertime study periods, up to two dozen portable monitors are set up throughout the Basin to measure meteorological conditions, ozone concentrations, and levels of ozone precursors in different locations.
Monitoring is a key component of these studies and collaborative efforts to reduce emissions.
These monitoring data track pollution trends, verify air-quality research models, and assist DAQ in developing emission reduction strategies. Long-term monitoring can also confirm whether regulatory and mitigation strategies are performing as predicted.