June 1 marks the beginning of ozone season in Utah. The following blog takes a look at how ozone affects Utah's air quality and is a re-post from June 2017.
By Donna Kemp Spangler
School's out and outdoor activities are in. It's also the time of the year that the Department of Environmental Quality's Division of Air Quality (DAQ) tackles Utah's other air-quality demon – ozone. And it's a battle that's harder to fight.
Unlike the visible winter inversions that trap the fine particulate pollution in the valleys, ozone builds up gradually and is more difficult to see, and predict. It doesn't have to mean we forget it's out there. We can't change the weather, but we can develop healthier air quality habits like driving smarter or less often. We can also avoid idling, use low-polluting products, and airtight gas cans. Why not make "Zero Bad-Air Days" everyone's goal?
In order to do that, we must first understand the fickle nature of ozone.
Ground-level ozone is created much the same as winter inversion fine particulates. It is not emitted directly in the air, but created by chemical reactions between oxides of nitrogen and volatile organic compounds (VOCs) — emissions largely from motor vehicles, but also consumer products, gasoline-powered lawn equipment, and industrial sources. During the summer, these chemicals react with sunlight to create ozone, and as temperatures change throughout the day so do the levels of ozone. Subtle changes can move the ozone needle either above or below the healthy mark – making forecasting much more difficult and often looking more like guesswork.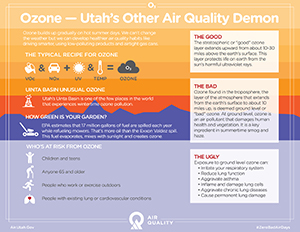 A typical hot summer day when the air is stagnant can be the perfect recipe for ozone, when the vehicle exhaust from the morning commute is mixed with the emissions of other activities throughout the day like lawn mowing or idling, to cook up an unhealthy brew that looks something like an overheated bus. Long-term exposure to ozone can be like a sunburn on the lungs. Short term means difficulty in breathing.
Weather has a lot to do with it. So do our choices.
One of the major factors in ozone formation is sunlight. Cloud cover can slow down or turn off the reaction that produces ozone, which makes it pretty difficult to predict those weather events that will influence ozone levels and those that won't. DAQ's air quality forecasters will wait until 7 p.m. to make their forecast for the next day's commute. An unusually calm night with warm temperatures could mean the ozone levels don't go down as expected. A summer monsoon could clear the pollution out when DAQ had predicted high levels.
When it comes to the public's health – and DAQ's predictions take this into account – we prefer to err on the side of caution. Foul air may or may not be unhealthy at any given time of the day. Specific to ozone, the air quality is generally better in the mornings, so taking advantage of any opportunity to shift outdoor activity to morning hours is a good move. If the forecast is wrong, the only consequence is cleaner air, and it gets us closer to our goal: Zero Bad Air Days.
Want to learn more, check the daily forecast at air.utah.gov for air quality conditions and UCAIR for ways you can help improve Utah's air.
I am the Communications Director for DEQ and a former reporter for the Deseret News. I write a monthly blog post.
Contact our PIO at deqinfo@utah.gov with further questions.