4 Ways You Can Help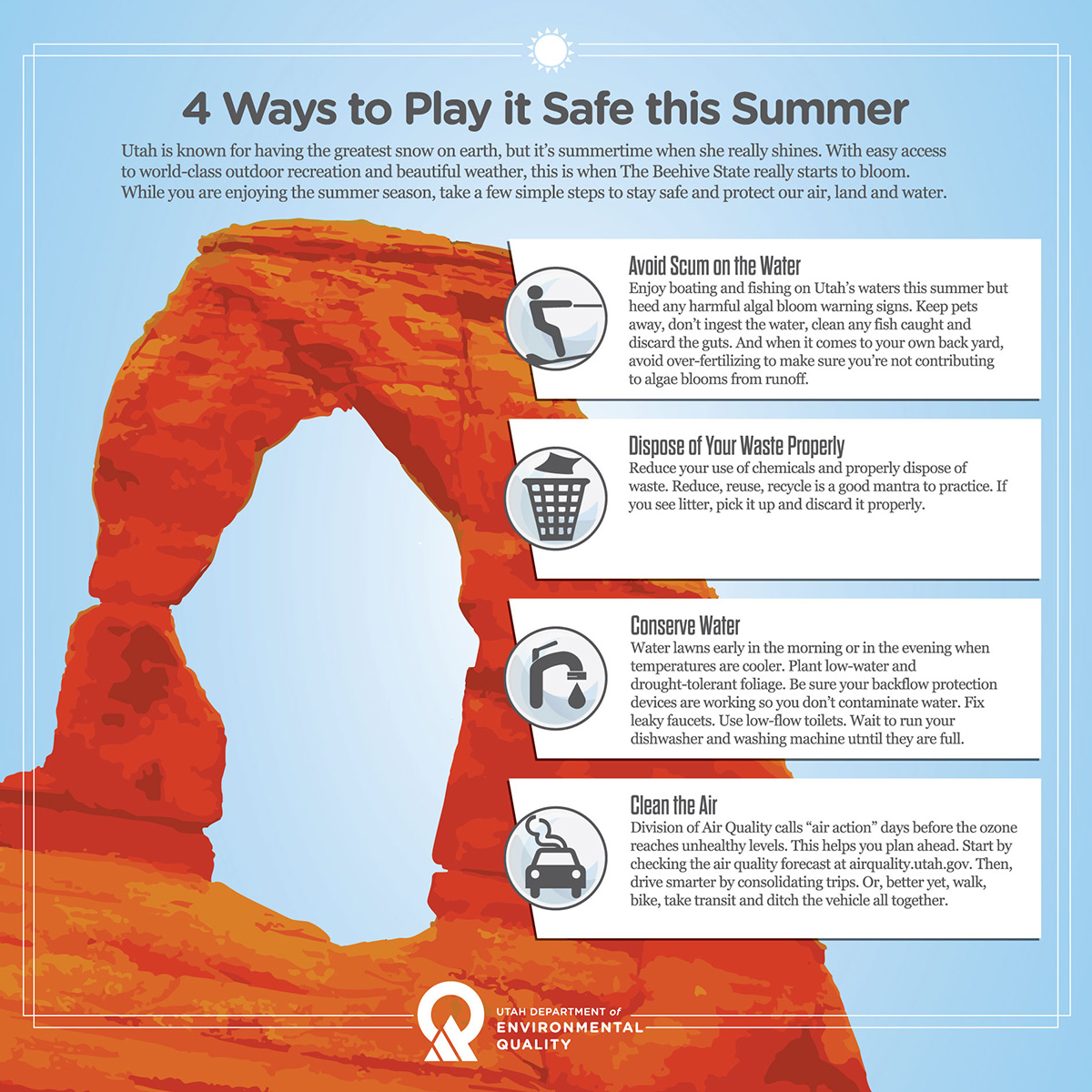 By Donna Kemp Spangler
Summer is a time to play outdoors. For fun-seekers there's plenty of options: River-rafting the Green River, backpacking Mount Timpanogos, fishing at Deer Creek Reservoir or boating in Lake Powell – to name a few.
For scientists at the Utah Department of Environmental Quality, summer is a time for field work: Testing for water pollution, cleaning up contaminated lands, or monitoring the air for ozone levels. And while it might not sound as fun as water skiing or rock climbing, we all have to do our part to make our outdoor fun time a healthy time.
Here are some tips to keep Utah's environment safe and fun:
What You Can Do: In most cases, you can still enjoy boating and fishing but heed the warning signs when posted: Keep pets away, don't ingest the water, clean any fish caught and properly dispose of the entrails. And when it comes to your own back yard, avoid over-fertilizing to make sure you're not contributing to algae blooms from runoff.
What You Can Do: Reduce use of chemicals and properly dispose of waste. Reduce, reuse, recycle is a good mantra to practice. If you see litter, pick it up and dispose it properly.
What You Can Do: Use water wisely. For landscaping, water lawns early in the morning or evening when temperatures are cooler, use water-resistant timers or plant low-water and drought-tolerant foliage. When you turn on your sprinkler systems make sure your backflow protection devices are turned on so you don't contaminate the water. Fix leaky faucets or use low-flow toilets and wait to run the dishwasher or washing machine when it is full.
What You Can Do: Check the air quality forecast at airquality.utah.gov and plan ahead. Division of Air Quality calls "air action" days before the ozone reaches unhealthy levels. What that means is we can drive smarter by consolidating trips, drive a well-tuned vehicle or better yet, walk, bike, take transit and ditch the vehicle all together.
We all can make a difference with just a few simple healthy choices to make our summer safe and healthy.
I am the Communications Director for DEQ and a former reporter for the Deseret News. I write a periodic blog post.
Contact our PIO at deqinfo@utah.gov with further questions.