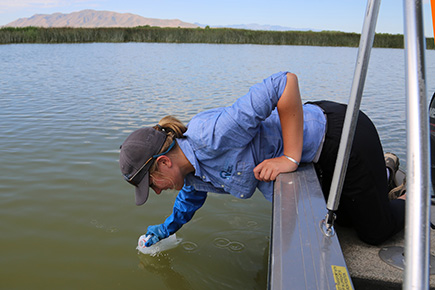 By Dr. Kate Fickas
The scientists at the Utah Department of Environmental Quality's (DEQ) Division of Water Quality (DWQ) have been tasked with devising better and more effective techniques to detect and mitigate the human-health risks of harmful algal blooms (HABs). The Utah State Legislature helps us and our partners fulfill this task with ongoing funding for HAB monitoring and response.
That's the protracted way of saying, we really care about the people using Utah's waterways and we don't want them to get sick. We understand the importance of clean water to the health, welfare and safety of the public.
For the uninitiated, when stagnant, nutrient-rich water warms up in the summer, it becomes the ideal breeding ground for cyanobacteria—commonly known as blue-green algae. Under these circumstances, the bacteria can reproduce at alarming rates, overwhelm the water body and begin to produce dangerous liver and neurotoxins. Even in the absence of these toxins, the cyanobacteria can cause gastrointestinal distress and skin irritation.
Detecting these blooms early is vital to advising residents of potential risks and finding solutions to this ongoing issue. This year, DWQ has become more proactive by monitoring in popular recreation destinations where the likelihood of a HAB forming is greatest.
We work with both the national and international community in locations also dealing with HABs to make sure our science and understanding is state-of-the-art. Below are just a few of the ways DEQ is monitoring blooms in Utah and ways the residents can help us find and address HABs:
Monitoring Crews
When a HAB is detected and reported to DEQ, dedicated monitoring crews respond to verify the bloom and sample the extent and threat to human health. These teams return to sites of verified blooms to track the growth of the bloom and check for toxin production.
Once the teams have collected samples of suspected blooms, the samples are sent to two different labs for independent confirmation of toxins, cell counts and cyanobacteria species. Results are often available within 24 hours.
When these crews are not responding to a new or ongoing HAB, they work to visit over 50 targeted waterbodies each month across the state to check water conditions and monitor for potential HABs.
Sonde Buoys
Real-time water-quality-logging sondes are deployed on buoys in Utah Lake, Scofield Reservoir and Deer Creek Reservoir. The data from these instruments help the water quality scientists at DEQ monitor the signals if a cyanobacteria bloom is growing. Monitoring teams from DWQ maintain and calibrate these instruments. The public can view the data provided by these sondes here.
Satellite Imaging
The Cyanobacteria Assessment Network (CyAN) is a multi-agency project that harnesses resources from NASA (National Aeronautics and Space Administration), U.S. Environmental Protection Agency (EPA), National Oceanic and Atmospheric Administration (NOAA) and U.S. Geological Survey (USGS) to process images to detect HABs from satellites. Using powerful algorithms, the images are processed to measure differences in the color spectrum to identify the severity and scope of a HAB. As the program is refined, scientists are testing this technology around the state to more quickly spot HABS before they affect humans and livestock.
Utah Water Watch
Utah Water Watch (UWW) is a water quality education and data collection program that seeks to increase awareness about the importance of water quality and promote stewardship of Utah's aquatic resources. Its goal is to empower citizens to learn and share knowledge about their local watersheds and practice good stewardship. Data collected are shared in a public database and with local water managers. Utah Water Watch volunteers are trained to monitor, sample and analyze potential harmful algal blooms. UWW is a free program and is open to volunteers of all ages. Volunteers learn more about water quality and help protect lakes and streams in Utah.
bloomWatch Mobile App
The bloomWatch mobile app is free for iOS and Android users. This app helps track and document the occurrence of harmful algal blooms.
When app users come across a potential HAB, they can upload the location and a photo to water quality managers, and public health officials. The app harnesses crowd-sourced data to track and manage water resources.
Search bloomWatch on Google Play or at the Apple App Store.
Unmanned Aerial Vehicles
In the coming years, DWQ hopes to add Unmanned Aerial Vehicles (UAVs) to reduce the need to conduct expensive airborne observations in manned aircraft.
Because algal blooms can occur in short time periods, such as a few days, or extended periods of time, such as several months, monitoring a bloom requires frequent observations. Historically, researchers relied on manned aircraft to detect and measure blooms. Unmanned aerial vehicles have emerged as an effective tool for spotting and monitoring algal blooms but at a much lower cost. Not only do UAVs reduce the cost of airborne studies in manned aircraft, they also provide the opportunity for remote monitoring of complex and difficult-to-reach algal bloom-affected areas.
As Utah and the rest of the country continue to deal with algal blooms, accurate and precise data are key to safeguarding our water quality, protecting human health and supporting the state and local agencies addressing HABs.
I am an aquatic biologist at the Utah Division of Water Quality and the new HAB program coordinator. I just recently moved to Utah from Oregon and have spent most of my free time getting to know this beautiful state through its waters by swimming, kayaking, and hiking. When I'm not in the water, I'm riding my horse, walking my dogs, or relaxing in my garden.