By Donna Kemp Spangler
People all across the nation were stunned and outraged when on Aug. 5, a breach at the Gold King Mine turned the Animas River near Durango, Colo., a bright mustard-orange color. Even more shocking was the fact that federal Environmental Protection Agency (EPA) contractors caused the disaster.
It took a 3-million-gallon toxic ooze to serve as a wake-up call for the importance of our watersheds and the need to protect them.
But lost in the hubbub is the simple fact that the mines in along Colorado's Animas River have been leaking mine wastewater into tributaries that flow into the San Juan for years – at a shocking 20 million to 250 million gallons per year.
If there is a silver lining to the disaster it was the great multi-agency coordination that mobilized in response to the toxic plume. The coordination also extended to local agencies within New Mexico and Colorado.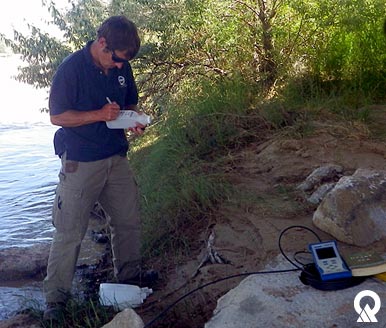 The Utah Department of Environmental Quality's Division of Water Quality (DWQ) immediately dispatched a crew to collect water samples from various locations along the San Juan. DEQ's Division of Drinking Water monitored drinking water systems near the river; none of which draw their source waters directly from the San Juan. The Navajo Nation shut off its drinking water system as a precaution. The Utah Department of Agriculture and Food issued advisories against using San Juan River water for irrigation and livestock. The Utah Department of Health analyzed the water samples and advised recreationists to carry water and not filter river water for drinking. The EPA also conducted its own water quality tests. The Utah Department of Public Safety united other agencies through daily calls.
The daily collection and analysis of samples from the San Juan River and Utah's premier recreation hotspot Lake Powell suggest the threat has eased.
But the Division of Water Quality remains vigilant. It has hired a consultant to perform weekly monitoring on the San Juan River and Lake Powell, to sample for water column, sediment, and macroinvertebrates to gauge the overall health of the waters.
It took the Gold King disaster to get the public's attention. And now is the perfect opportunity to use all that attention to fix a long-standing problem.
I am the Communications Director for DEQ and a former reporter for the Deseret News.
Contact our PIO at deqinfo@utah.gov with further questions.