Principal Investigators: Dr. Greg Carling
Study Period: July 1, 2019 – June 30, 2021
Funded by Science for Solutions Research Grant: $150,000
DAQ Contact: Chris Pennell (cpennell@utah.gov)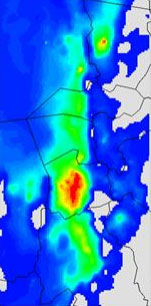 Dust storms are a source of particulate matter (PM) that can impact ambient air quality across the Wasatch Front and add to PM from human activities. Natural sources of dust, such as the dry lakebed of the Great Salt Lake (GSL), cannot be reasonably decreased through regulation or emissions controls. Understanding the influence of natural sources on PM events is therefore important for regulatory purposes, but dust sources are difficult to constrain with atmospheric transport models or satellite imagery. This study will use ground-based PM sampling to identify regional dust sources and to validate the performance of an atmospheric transport model. This model can help determine how future land management decisions or climate change could impact PM levels in the region. For example, further expansion of the dry lakebed of GSL or an increase in wildfire activity could result in more PM along the Wasatch Front.