Statewide Emissions Inventory Program
Federal and state laws require the Utah Division of Air Quality (DAQ) to create a comprehensive emissions inventory for point, area, and mobile sources every three years, and annually for some large point sources.
The point source emissions inventory for 2020 is due April 15, 2021. The inventory is collected through SLEIS, the State & Local Emissions Inventory System. If your facility is required to complete an inventory, your registered facility users will receive an email soon notifying them their reports are available for data entry. To register as a facility user, please complete the Electronic User Account Registration form. If you have any questions, please contact sleis@utah.gov.
---
Oil and Gas ULend Program for IR Camera
The ULend program is a collaborative approach to fixing compliance issues before they become a regulatory problem. Through the program, the Division of Air Quality will lend small oil and gas producers a state-of-the-art infrared (IR) camera for leak detection. This allows companies to forego the purchase of a $100,000 IR camera and the cost of hiring a camera contractor (about $7,000/week) since ULend will provide training in the camera's use to program participants.
Operators using the borrowed cameras will be asked to share some simple data — basic facility information, date of the site visit, specific leak location, how the leak was addressed, and associated costs — with DAQ. This data will only be used for research purposes, not compliance actions.
To take advantage of this program, visit the ULend website.
---
Venting of VOCs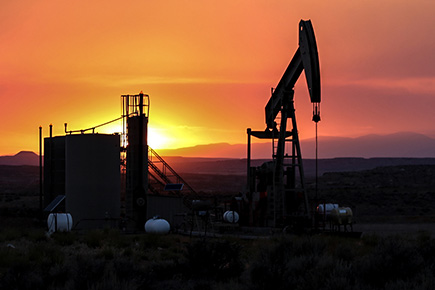 The State of Utah and the U.S. EPA have set regulations to stop volatile organic compounds (VOCs) from being emitted to the atmosphere where reasonable. Recently, the Uinta Basin has gone above state and federal standards for ozone pollution caused by VOC emissions, and the area has been classified as non-attainment for this pollutant.
The oil and gas industry can help the state address this issue by being watchful of venting events:
Wellhead blow down

Prior to work over, stimulating or plugging

Pigging operations
Overflow to emergency tanks

From over pressured gas sales lines
From over pressured phase separators

Blowdown for frost protection or high H2S concentrations in wet gas or sales gas lines
Please familiarize yourself with the following applicable rules and recordkeeping requirements that may be more strictly enforced due to the non-attainment designation:
R307-325: Ozone Non-attainment and Maintenance Areas: General Requirements

R307-325-3

No person shall allow or cause volatile organic compounds (VOCs) to be spilled, discarded, stored in open containers, or handled in any other manner that would result in greater evaporation of VOCs than would have if reasonably available control technology (RACT) had been applied.

R307-511 Oil and Gas Industry: Natural Gas Flaring

R307-511-4

(1) Associated gas from a completed well shall either be routed to a process unit for combustion, routed to a sales pipeline, or routed to an operating VOC control device except for emergency release situations as defined in R307-511-2.

R307-511-5

(1) The owner or Operator shall maintain records for the releases under R307-511-4(1)
(1)(a) The time and date of the event, volume of emissions and any corrective action taken shall be recorded.
---
2020 Annual Report
Major & Minor Compliance
| | |
| --- | --- |
| Source Inspections | 517 |
| On-Site Stack Test/CEM Audits | 26 |
| Stack Test/CEM Reviews | 392 |
| Emission Reports Reviewed | 132 |
| Temporary Relocations Accepted | 63 |
| Fugitive Dust Control Plans Accepted | 1143 |
| Soil Remediation Report Reviews | 51 |
| Open Burn Permit Application Completed Online | 220 |
| Misc. Inspections | 194 |
| Complaints Received | 171 |
| Wood Burning Complaints | 0 |
| Breakdown Reports Received | 12 |
| Compliance Actions Resulting from a Breakdown | 0 |
| VOC inspections | 0 |
| SCAN/Warning Letters | 17 |
| NOV's | 3 |
| Compliance Advisories | 60 |
| No Further Action Letters Issued | 32 |
| Settlements | 32 |
| Penalties Collected | $201,051.60 |
| Total Inspections | 737 |
ATLAS
| | |
| --- | --- |
| MACT Inspections | 0 |
| Asbestos Demolition/Renovations NESHAP Inspections | 196 |
| Asbestos AHERA Inspections | 215 |
| Asbestos State Rules Only Inspections | 32 |
| Asbestos Notifications | 1906 |
| Asbestos Phone Calls | 4275 |
| Asbestos Individual Certifications | 828 |
| Asbestos Company Certifications | 87 |
| Asbestos Alternate Work Practices | 51 |
| Lead Based Paint Inspections | 29 |
| Lead Based Paint Notifications | 10 |
| Lead Based Paint Letters Prepared & Mailed | 74 |
| Lead Based Paint Phone Calls | 810 |
| Lead Based Paint Courses Reviewed | 71 |
| Lead Based Paint Course Audit | 3 |
| Lead Based Paint Individual Certifications | 214 |
| Lead Based Paint Company Certifications | 107 |
| Notice of Violations (NOV's) | 1 |
| Compliance Advisories | 71 |
| Warning Letters | 40 |
| Settlement Agreements | 12 |
| Penalties collected | $41,901.88 |
| Total Inspections | 472 |