This two-year program includes on-site training, a wage schedule, and much more. Contact the Rural Water Association of Utah (RWAU) for more details.
Successfully passing the certification exam and maintaining your certification is required to be a certified water operator.
Certification Steps
Study
Register for an Exam
Pass the Exam
Maintain Your Certification
An operator who has passed a certification exam in another state and is seeking employment in Utah may request Reciprocity (382 KB) for Utah.
Study
Prepare and study for the exam. The exam will cover six categories and consist of 100 multiple-choice questions. A minimum of 70% is required to pass.
Exam Registration
All of the steps must be completed before taking the paper exam or before scheduling an appointment for an online exam. A new application is required for each exam taken.
Choosing a Grade Level to Test For
Some Public Water Systems may be required to have a certified operator at a certain grade level depending on the system's population and complexity. This requirement is specified on the system's IPS Report and is available online at waterlink.utah.gov.
| Distribution | Treatment |
| --- | --- |
| Small System: 25-500 population | Treatment Grade 1: 25-1,500 |
| Dist. Grade 1: 501-1,500 | Treatment Grade 2: 1,501-5,000 |
| Dist. Grade 2: 1,501-5,000 | Treatment Grade 3: 5,001-15,000 |
| Dist. Grade 3: 5,001-15,000 | Treatment Grade 4: > 15,001 |
| Dist. Grade 4: > 15,001 | |
Available in the Spring in Southern Utah and available in fall in Northern Utah on the last day of the Rural Water Association of Utah's Conferences. See the Exam Application for the application deadlines and the exam dates. There will be NO on-site registration for these exams. The conference training and the exam are separate registrations. Register for the conference training with Rural Water Association of Utah (RWAU). For more info call (801) 756-5123 or email rwau@rwau.net.
Paper Exam Registration Steps
Submit an Exam Application (803 KB) to the Division of Drinking Water by the deadline
Submit a notarized Citizenship Form (attached to application)
Pay the paper exam fee to Drinking Water
About the Exam
The exam consists of 100 multiple choice questions from the six categories on our Study page. All certification exams are proctored and timed. Everyone will be given three hours to complete the exam. A minimum of 70% is required to pass.
Bring to the exam:
Driver's license or government ID
Calculator (4 function calculators preferred)
#2 pencil and erase
Items not allowed during the exam:
No cellphones, laptops, or devices that can hold text allowed (like programmable calculators)
No phones as calculators
Books and notes
Your own scratch paper
Provided at the exam:
Sheet of math formulas and conversions
Scratch paper
Exam Results:
Online exam results are immediate upon completion
Paper exam results take up to four weeks to receive in the mail
You may request an Exam Review to learn from the questions you missed and you could challenge a question to justify changing your score.
Maintain Your Certification
Your certification will be valid from the day you pass your exam and it will be due for renewal every 3 years on December 31st. Your certification's 3-year cycle for CEU's begins the following year on January 1st after you have passed the exam.
Operator Certification Rules state you must acquire Continuing Education Units (CEUs) during your certification's three-year cycle by attending drinking water-related training.
Keep track of when your certification expires, see how many continuing education units (CEU's) you have, and what courses are on file for your current renewal cycle.
You are required to complete the certification renewal steps in order to maintain your certification or it will expire. This requires a renewal application, a renewal fee for each certificate, and the CEU's requirement must be met.
Exam Feedback Survey
Take our Exam Feedback Survey to help us improve the exam process for future operators and tell us about your experience. Did you need more training on a specific topic? Have a recommendation? Let us know!
Hiring Center
Our Operator Hiring Center helps water systems connect with certified operators who are seeking employment and helps fill positions.
Restricted and Unrestricted Stratus
Certifications are deemed Restricted until operators gain the necessary experience for Unrestricted Status. The number of years required to become unrestricted is determined by certification grade level and education.
Unrestricted Status Steps
Meet the Minimum Qualifications Unrestricted Status (86 KB)
Complete the steps on the Unrestricted Status Application (478 KB)
Submit the application to DDW for approval.
Direct Responsible Charge (DRC)
DRC Operators are active on-site operators that make decisions that affect the quality and quantity of the water. Operators must gain the necessary experience, be certified at the system's classification level, and then apply to be registered as a DRC.
DRC Operator Steps
Meet the Minimum Qualifications (86 KB)
Complete the steps on the Direct Responsible Charge Application (471 KB)
Submit the application to DDW for approval.
Keep Our Info Up-To-Date
To ensure that you receive all notices and correspondence, keep your contact information up-to-date by contacting us in writing (letter or email). Memorize and include your certification number with your correspondence to the Division to avoid any possible errors in your state record.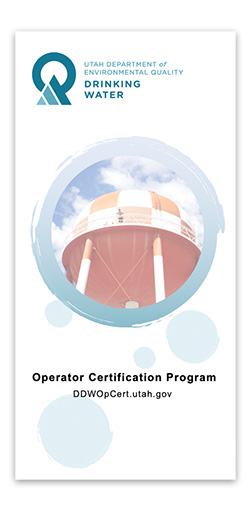 Contact
Dawnie Jacobo (DDWOpCert@utah.gov): (385) 272-5038