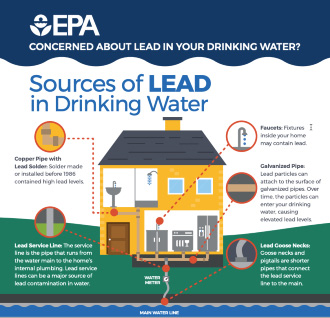 Children's exposure to lead in drinking water at school is only a small part of their overall potential exposure. Children typically only drink water in schools for a portion of the day. While it is unlikely that lead in drinking water at schools would cause staff or children to have significantly elevated blood lead levels, it can contribute to overall exposure. The risk will vary, depending on the individual, the circumstances, and the amount of water consumed.
The most important thing parents and caregivers can do is identify and remediate suspected sources of lead. Some parents decide to test the water in their home. Parents who still have concerns may wish to contact their doctor for blood-level testing. The amount of lead in blood, or blood lead level, is measured in micrograms of lead per deciliter of blood (μg/dL). The CDC blood reference value of 5 micrograms per deciliter identifies children whose blood levels are much higher than average.
At School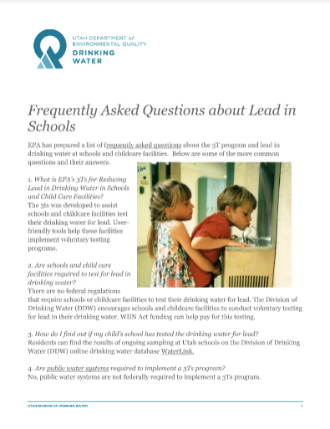 The water systems at schools are not unlike water systems found in other buildings. Older plumbing systems and fixtures can contain lead pipes or solder. When a chemical reaction (corrosion) dissolves metal in the pipes, lead can enter the drinking water. The amount of lead that enters the water depends on various factors, including the acidity or alkalinity of the water, types and amounts of minerals in the water, amount of lead that comes into contact with the water, water temperature, amount of wear in the pipes, how long the water stays in pipes, and the presence of protective scales or coatings in the pipes (CDC, 2020).
Testing is the only way to know if lead has entered the drinking water at a school or childcare facility. Voluntary testing supported by WIIN Act funding will help these facilities conduct this testing. For a list of schools that have already tested their drinking water for lead, visit DDW's online drinking water portal WaterLink.
The EPA has prepared a list of frequently asked questions about the lead in drinking water at schools and childcare facilities and the 3T program. The brief fact sheet on this page covers the most commonly asked questions.
At Home
Lead in drinking water can also be a problem in some homes, particularly older homes with lead pipes or lead in plumbing materials. Families can reduce their exposure to lead in their homes by taking these simple actions.
Flush pipes before drinking if a faucet or pipe hasn't been used for six hours or more. First thing in the morning, after returning from work, and when returning from vacation are all good times to flush household plumbing.
Use only water from the cold-water tap for drinking and cooking. Hot water is likely to contain higher levels of lead.
Clean faucet screens (aerators) regularly.
Do not boil water to reduce lead. Boiling water does not reduce lead in drinking water.
Check with the public water supplier for the home to see if it uses lead pipes or service lines and if they have been partially or wholly replaced.
When purchasing replacement plumbing parts, make sure the products have been tested and certified as lead-free.
Consult the latest copy of the Consumer Confidence Report for lead results for the public water system servicing the house. The name of the public water system can be found on the household's water bill.
Homeowners can also sample for lead by contacting a certified lab. Labs provide bottles and sampling instructions. The cost is approximately $20.