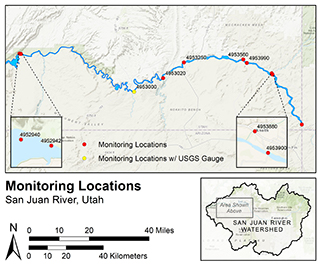 Documents
After the Gold King Mine spill in 2015, the Utah Division of Water Quality (DWQ) collected data in the San Juan River Watershed and Lake Powell System to determine if metal concentrations and sediment loads pose a risk to the beneficial uses in the river. Designated beneficial uses for the San Juan River include:
Drinking water
Recreation
Aquatic life
Agriculture
DWQ and the U.S. Geological Survey (USGS) collected and analyzed a variety of parameters, including water quality, sediment, and sediment cores, and compared their findings with water-quality and sediment standards. In 2018, DWQ completed a report that details the data collection and analysis, interprets current and historical data for the San Juan River Watershed, and evaluates the impact to Utah's waters from long-term and ongoing mine drainage. Topics include:
Data compilation
Sampling methodology and lab analysis
Water-quality assessment and screening
Sediment-data assessment and screening
Spatial and temporal water-quality trends
Sediment trends
Potential soil and bedrock source contributions
The report also includes extensive references, appendices, and data tables.