The Utah Division of Water Quality is pleased to announce the approval of the following Utah Lake Preservation Fund projects. The Division received 33 applications with a total request of $60,238,845. A total of 18 projects have been approved by the Executive Selection Committee for funding.
During the 2022 General Session, the Utah Legislature created the $30 million Utah Lake Preservation Fund using federal American Rescue Plan Act (ARPA) funds. The Utah Division of Water Quality is administering a competitive grant program for Utah Lake water quality projects.
While this page provides information regarding the program please refer to the official Utah Lake Preservation Fund Grant document as the official source of information.
Project Categories
There are 5 general project categories that are eligible for funding:
Wastewater Infrastructure
Stormwater Infrastructure
Nonpoint Source Projects including Agricultural
Stormwater Best Management Practices
Nonpoint Source Information & Education
In-Lake Water Quality
Project Eligibility Requirements
Projects are eligible if they: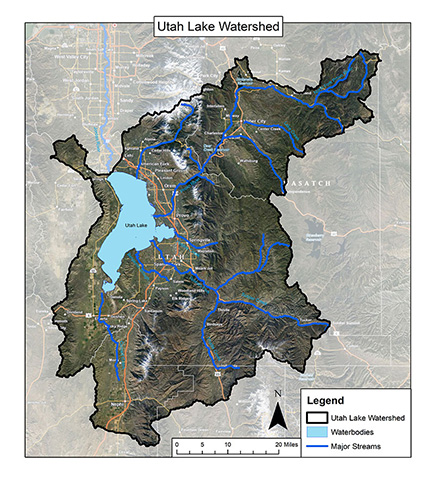 Provide a water quality benefit
Are located in Utah Lake and its watershed
Meet federal ARPA requirements.
Local Contribution
Applicants should demonstrate a commitment to co-invest (matching funds) equaling at least:
10% of the project cost for projects totaling less than $150,000;
20% for projects between $150,000 and $1,000,000;
50% for projects between $1,000,000 and $10,000,000; and
80% for projects over $10 million.
How to apply
Proposals must be submitted using the online application form (see link below). The form should be used for all project types. Be as specific as possible in your proposal.
Application Form
For more information and guidance on the application and project criteria please refer to the Utah Lake Preservation Fund Grant document.
Project Selection Process
Projects will be selected using a 2 step process. A team of subject matter experts will evaluate the projects for eligibility and rank them according to the project criteria. The Executive Selection Committee will choose projects and allocations taking into consideration the applications and information provided by the subject matter team
Key Dates
November 3, 2022 – Applications are due at 5:00 pm MST.
December 14, 2022 – Preservation Fund Grant Recipients announced
October 1, 2024 – Recipients must spend or demonstrate sufficient progress by this date
December 31, 2026 – All recipients must spend the funds by this date. No extensions beyond this date are allowed.
Questions?
For more information on the Utah Lake Preservation Fund Grant Program, email your questions to: dwqarpautahlake@utah.gov. Please provide a contact name and phone number in your email so that staff may contact you.