Notice
As of July 1, 2020, Utah's Small MS4 permit and Jordan Valley Municipalities MS4 permits require retention of the volume associated with the 80th percentile storm event using LID practices for new and redevelopment projects greater than 1 acre. See part 4.2.5.1. of the permits:
Overview
As a community grows, vegetation is removed and the surface area is covered by parking lots, roads, and rooftops. Precipitation cannot soak through these hard (impervious) surfaces. Traditional storm water conveyance systems carry precipitation offsite through a conventional "collect-and-convey" system of pipes, ditches, and storm drains. The volume of storm water (runoff) that is discharged to and transported by municipal storm-drain systems is one of the main causes of water quality issues in most urban areas.
Low Impact Development Principles
Low Impact Development (LID) principles utilize storm water as a resource to retain precipitation onsite.
Benefits
LID costs less than conventional "collect-anrd-convey" systems because of fewer pipes, fewer below-ground infrastructure requirements and less impervious surfaces
Space once used for storm water ponds can be used for additional development or conservation
Precipitation infiltrates into the soil, reducing the volume of water flowing through the site, mimicking the site's predevelopment hydrology
Infiltration contributes to groundwater recharge
Precipitation provides irrigation for trees and other vegetation, which in turn shades and cools streets, and increases property values in neighborhoods, commercial and industrial areas
Fewer pollutants are caught up in the runoff and transported to receiving waters
Other benefits include: improved wildlife habitat, thermal pollution reduction, energy savings, smog reduction, and enhanced wetlands protection
Examples of LID Techniques
LID principles mimic nature by using techniques that infiltrate, evapotranspire, and/or harvest/reuse the runoff generated.
Bioretention Systems
The following bioretention systems are engineered to treat and infiltrate a specific amount of storm water:
Harvest/Reuse
Permeable Surfaces
Pervious Concrete
An open-graded asphalt or concrete with reduced fines and a special binder that allows for the rapid flow of water. Water is able to pass through the pavement by flowing through voids between the aggregate. Photo: Pervious concrete located at the Associated General Contractors' parking lot.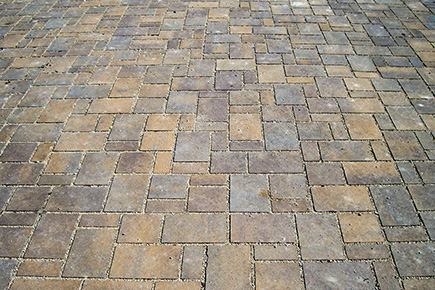 Paver Blocks
Paver blocks themselves are not permeable but are installed with gaps between the pavers to allow storm water to penetrate into the subsurface. The gap is integrated into the interlocking design of the paver blocks. Grid systems made of plastic grids filled with soil or aggregate are also used. Photo: Pavers at the Jordan Valley Water Conservancy District's Conservation Garden Park.
Site Design
Definitions
Bioretention–A bioretention area or rain garden is a shallow planted depression designed to retain or detain stormwater before it is infiltrated or discharged downstream. Evapotranspiration–Evapotranspiration (ET) is the sum of evaporation and plant transpiration from the Earth's land and ocean surface to the atmosphere. Evaporation accounts for the movement of water to the air from sources such as the soil, canopy interception, and waterbodies. Hydrology–Hydrology is the science that includes the occurrence, distribution, movement and properties of the waters of the earth and their relationship with the environment within each phase of the water cycle.
Resources