Why the Fee Changes?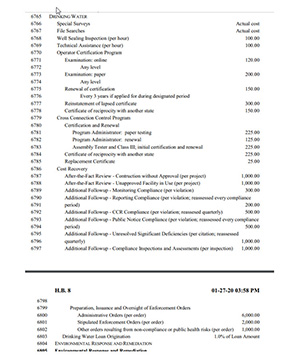 The Division of Drinking Water's mission is to protect public health by ensuring that safe drinking water is provided to all Utahns. We work in partnership with the State's 1,000-plus public water systems who share that same commitment.
When problems are identified, Division staff offer an opportunity for water systems to take corrective steps within a given timeframe. Technical assistance is provided when more help is needed. This model usually works very well. However, our experience is that noncompliance situations take up a disproportionate amount of Division resources.
In the past, the Division has not relied on fees to support its major programs. We are faced with the ongoing challenge of ever-increasing workloads, budgets not keeping up, and difficulty maintaining the level of services provided. After carefully analyzing noncompliance costs, we are proposing this step to begin to rectify this. The new fees are also in keeping with the Legislature's desire to minimize burden on the General Fund and instead focus on "fee for services".
The DEQ Fiscal Year 2021 Fee Schedule (198 KB) approved by the legislature to begin on July 1, 2020 now includes these fees. More detailed information can be found in this Detailed Explanations document (81 KB).
Please contact Colt Smith (acsmith@utah.gov), (801) 536-4155 if you have any question regarding the fee changes.